Our Mission Statement

"We exist to introduce people to Jesus and to nurture them toward maturity as His disciples."
Vision Statement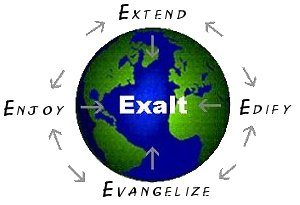 EXALT our God in group and personal worship.
EDIFY one another through love toward spiritual and relational maturity.
EXTEND God's Kingdom by carrying unconditional love, mercy, grace, justice, and service to our communities.
EVANGELIZE our communities by sharing the Good News of Jesus Christ our Savior.
ENJOY abundant life together as we EXALT, EDIFY, EXTEND, AND EVANGELIZE.